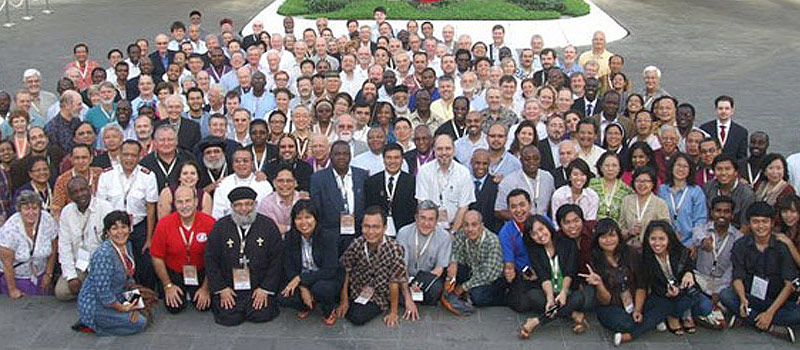 Today, Christians from different traditions increasingly encounter and engage with one another. We meet across denominational, regional, national, ethnic and cultural boundaries.
In many places members of different churches and inter-church organisations are coming together over shared concerns, such as social and ethical questions, secularisation, or the challenges of minority status or persecution.
And Yet…
Many churches and Christian communities continue to live in isolation from one another. Some have not found it necessary to come closer to traditions that differ from their own. Others have been unable to find opportunities for engaging with others, or have felt excluded and rejected.
Therefore…
TheGlobal Christian Forum seeks to offer new opportunities for broadening and deepening encounters.
It is especially intended to promote new relationships between and among Christian constituencies :
which have not been in conversation with one another
who are in conversation with only a select group of partners
who have engaged in existing ecumenical relationships.
The Global Christian Forum is pursuing this goal through the creation of a 'space' where participants all meet on an equal basis, to foster mutual respect, and to explore and address together common concerns.
GOING BEYOND…
The modern ecumenical movement has come a long way since its beginnings in the early part of the 20th century. Many churches have been enabled to move beyond their historical divisions into new relationships of trust, cooperation and communion.
Institutions which represent certain parts of the Christian family have emerged, such as the World Council of Churches and the World Evangelical Alliance.  Historic denominations have entered into conversations with other world communions and churches, such as those the Catholic Church has conducted, especially since the Second Vatican Council, with partners ranging from Pentecostal to the Orthodox families of churches.
There are also many organisations, like the Lausanne Committee, World Vision, the Young Women's and Young Men's Christian Associations, etc. in which Christians from a wide variety of backgrounds work together and engage the churches across ecclesial and confessional boundaries.
Yet until now, there has been no place where representatives of all the main Christian churches and church families, and their international organizations can join together around one table.
How the GCF engages with participants