By: Casely B. Essamuah, Secretary, Global Christian Forum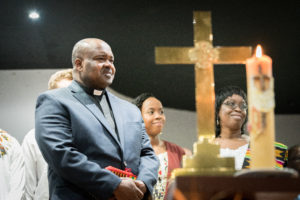 Very few of us, if any have lived through such times – when most of the world is in lockdown. Most building campaigns for churches talk about the fact that "it's not about the building" and now we have a perfect opportunity to live out that truism. We all yearn for social interaction but for the sake of reducing infection, we have to keep physical distance. And no matter how you felt about technology, we are all grateful that we can resort to technology in all its variety to communicate, to keep in touch and to reduce the isolation.
A controversial Christian proverb attributed to St Francis of Assisi says, "preach the gospel always, when necessary, with words." Again, the church in every locality has a great open door to serve the needy among them, both those who share the literal walls of the buildings and those who are outside it, during this pandemic. It may be the best introduction to the Christian faith that they would have before committing to following Christ who served all. When we engage people with loving service, people who are indifferent to, or disagree with our faith convictions, we create an opportunity for them to ask for the reason for the hope we have.
Yes, we are in changing times, but that is the more reason why we serve our communities with the unchanging message of the gospel. Where do we find hope, and a bright tomorrow? It is in the name of Jesus Christ and the promises that God gives us in His Word.
In the future, would it be said of today's church that this was their finest hour as Winston Churchill challenged his compatriots during war times?
What do you think and what is your church doing to reach out to those who are needy during this pandemic?