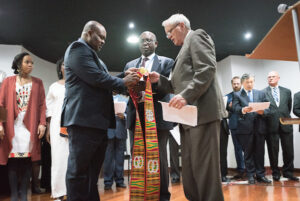 Press Release
November 4, 2023
Meeting at the Bossey Ecumenical Institute in Geneva, the Global Christian Forum (GCF) International Committee voted to renew the contract of Revd Dr Casely Essamuah for an additional five years.  Originally ordained in the Methodist Church, Ghana, and with extensive experience serving the evangelical church in Maryland, USA, Dr Essamuah has served as Secretary of GCF since July 2018.
Dr Essamuah describes himself as "evangelical and ecumenical," and he expressed both joy and excitement to continue serving alongside the Global Christian Forum.
The Global Christian Forum is a space where Christian communities gather to build relationships, broaden conversations, share faith-stories, and foster mutual respect. GCF invites all traditions in the global Christian family to join in the shared work of Christian unity. Represented in the GCF are many Christian World Communions and world Christian organisations, including the Dicastery for Promoting Christian Unity, the Pentecostal World Fellowship, the World Evangelical Alliance, and the World Council of Churches.
"Casely Essamuah's leadership will continue to enrich and strengthen the work of the Global Christian Forum.  He brings creativity, energy, and an indefatigable commitment to building unity in the global Christian community for the sake of our mission and witness in the world.  We are gifted by his service, and the International Committee of the Global Christian Forum gave its unanimous affirmation for renewing his role as secretary for the coming five years." said the Revd Wes Granberg-Michaelson, president of the Global Christian Forum Foundation.
The Revd Nicta Lubaale, a member of the Personnel Committee, said, "Dr. Essamuah brings the leadership and vision the GCF needs for the next five years. He is a person who connects with other people from multiple church traditions, and he works from a position of humility. He communicates well and a in timely manner, and he has worked well with the four pillars and the various streams of Christianity participating in the GCF."
The Global Christian Forum is looking forward to celebrating its Fourth Global Gathering in Accra, Ghana in April 2024.