GCF Bogotá – Tuesday, April 24, 2018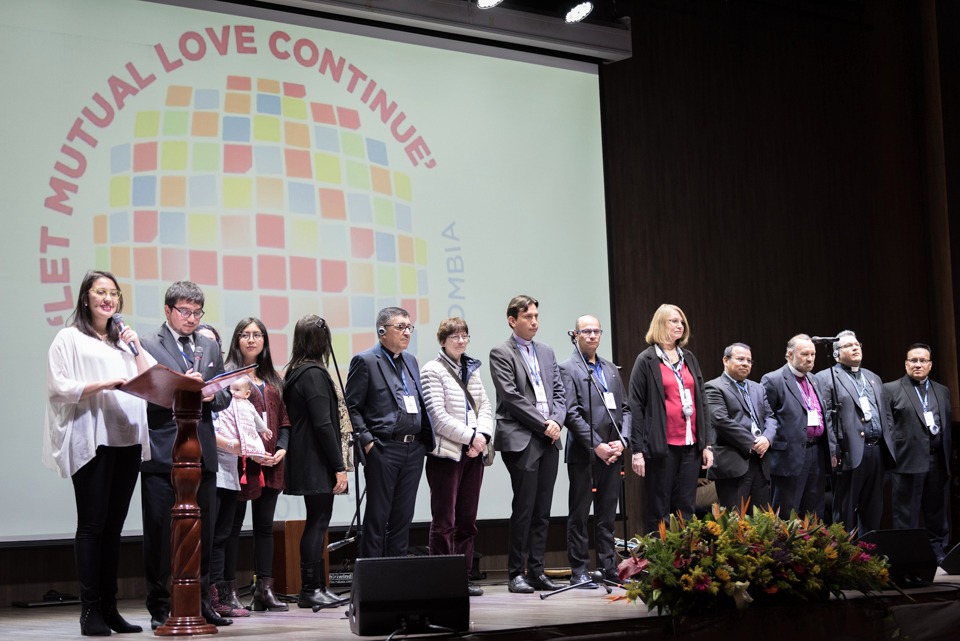 The third Global Gathering of the Global Christian Forum (GCF), the world's most diverse high-level leadership grouping in global Christianity has begun in Bogotá, Colombia.
An opening prayer service on 24 April included scriptures read in Arabic, Spanish and English and French; music combined the soft chants of Taizé and tradition Latin sounds of pan pipes, percussion and guitar.
It is the first GCF global gathering in the Americas and the first in a Spanish-speaking nation gathering under the theme "Let mutual love continue" (Heb.13:1), from the epistle to the Hebrews,
The gathering of the Global Christian Forum represents the broadest expression world Christianity, with leaders coming from all streams of the Christian faith.
This includes churches from African Independent, Anglican, Catholic, Evangelical, holiness, independent, mega, Orthodox, Pentecostal and Protestant churches.
The search for closer understanding and joining in common challenges across the broad spectrum of Christian faith, comes at a time when global forces of division, mistrust and retreat from connection and community is occurring in across the world.
GCF Secretary, Rev. Dr Larry Miller said the gathering will be "testimonial, relational and missional".
This will be reflected in the time given to sharing in faith discussion across traditions and inter-ecclesial groups, focusing on future common challenge together.
Participation in the conference is based on a 50:50 ratio between leaders of 'older' churches (Catholic, Orthodox, and Protestant) and 'younger' churches (Evangelical, Pentecostal, independent).
The Global Christian Forum is a platform for Christian faith across traditions, but it does not seek to be an organisation or to replace other ecclesial bodies.
It is not a decision-making body but seeks to draw leaders together providing a space for discussion and prayer that mutual love will continue.
Photos from the GCF Global Gathering in Bogota