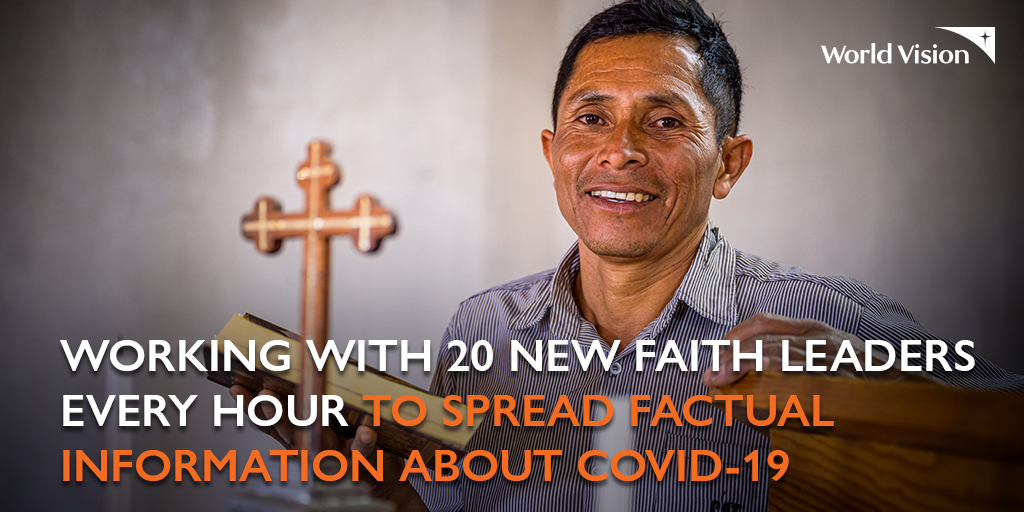 (Text from a January 8th 2021 press release from World Vision)
One year on from the World Health Organization first reporting an outbreak of a new coronavirus in China, new Barrier Analysis studies by World Vision are demonstrating just how important religious leaders' endorsements of the COVID-19 vaccine will be to the next stage of efforts to contain and roll back the pandemic. 
The aid agency carried out studies in selected rural communities in Bangladesh and found that 100% of those surveyed who intend to get a vaccine agreed with the statement: "Most of my community leaders and religious leaders would want me to get a COVID-19 vaccine." By contrast only 38% of those who intend to refuse a vaccine ('non-acceptors') agreed with that statement. Vaccine 'acceptors' were also 7.1 times more likely (than non-acceptors) to say they would be very likely to get a vaccine if a health worker recommended it to them. 
The study also found that non-acceptors were almost 10 times more likely than acceptors to strongly agree with the statement: "Whether I get COVID-19 or not is purely a matter of God's will or chance." They were also 6.8 times more likely to say they did not trust the COVID-19 vaccines at all and 11 times more likely to say they did not know if getting vaccinated would protect them. 
World Vision also carried out studies in Myanmar and found that the factors driving COVID-19 vaccine acceptance in communities there were similar in some aspects: 'Acceptors' were 3.7 times more likely to say that they would be very likely to get a vaccine if a health worker recommended it to them, and more likely to believe that most of their community and religious leaders will want them to get the vaccine (100% of acceptors vs. 80% of non-acceptors). 
These findings suggest that endorsement by religious leaders and community health workers is vital for community-level acceptance, the promotion of accurate health information, and to help to ensure high-level vaccination uptake. World Vision currently works with a network of more than 184,000 community health workers and has engaged with more than 210,000 faith leaders globally combatting the spread of the virus, especially at the grassroots level.
"While a vaccine represents a scientific triumph, no one can claim victory until it reaches the most vulnerable communities right across the globe," says Andrew Morley, World Vision International President and Chief Executive. "We challenge the world to be fair in vaccine distribution. Protection from this virus should not be linked to economic power – it should be fair and equitable."
"COVID-19 vaccines will be a lifeline for vulnerable children all over the world, enabling them once again to reach their God-given potential – but only if they reach the vulnerable communities who need them most."